Coaches

DEENA MARCUM SELKO
OWNER/ARTISTIC DIRECTOR 
Deena Marcum Selko, Artistic Director, has been working as a professional circus artist and teacher for over 18 years and has been directing circus now for the past decade. She started out as a dancer in NYC where she earned her BFA in Dance, specializing in Contemporary Ballet. She found aerial and circus through Anti-Gravity in New York, which then took her on a long journey into a successful career in circus.
Deena has performed around the country and abroad, touring with Cirque Le Masque, Cirque Legacy, Cirque Fantasies, Nimble Arts, at both the International Aerial Dance Festival and the New York Aerial Dance Festival, as well as locally in her home State of Colorado, with Frequent Flyers and MOTH Poetic Circus.
As a teacher, Deena has taught all levels and ages, for companies such as Circus Smirkus, A-Wol Dance Collective, South Florida Circus School, Pendulum Aerial Dance Theater, Aircat Aerial Arts, Frequent Flyers Productions and Circus Warehouse in NYC. She taught for the Professional Training Program at NECCA (the New England Center for Circus Arts) for four years before moving to Colorado in 2011.
Deena created MOTH Poetic Circus in 2008, and has created, directed and produced over a dozen shows including, Channeling, Cirque Side of the Moon, Voodoo Mardi Gras Circus, Metamorphoses, E'Lectrique Dollhouse Circus and Cinema: A Circus in Black and White. Her last two shows The Nutcracker Circus and Alice in Wonderland: A Circus Adventure, both sold out weeks in advance to an audience of now over 2500 people.
This season Deena has brought back The Nutcracker Circus at The Newman Center for Performing Arts, and will be re-staging Alice In Wonderland: A Circus Adventure for the Ellie Caulkins Opera House. A 2200+ seat theater in the heart of the Denver Performing Arts Center.
Deena is also working on bringing her original work Butterfly: Heart of a Diva, a Cirque Opera to life, in collaboration with the City of Denver. Stay tuned for big announcements on it's premier in 2019!
---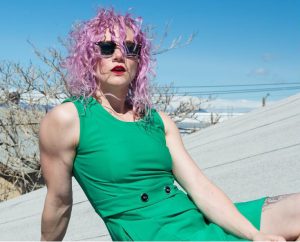 PAULA KIDWELL
PROFESSIONAL TRAINING DIRECTOR – HEAD COACH – PERFORMER
Paula Kidwell is a two-time Acrobatic Gymnastics National Champion and past Junior Olympic National Team Member. She studied at the prestigious Ecole National de Cirque in Montreal and has performed with a variety of circus companies including Vau de Vire Society, Velocity Circus and MOTH. Paula in an internationally renowned slackliner, seasoned fashion designer, dedicated coach, passionate acrobat, rock climber, snowboarder, crafter and lover of nature.
---
JANELLE PE
TERS
EDUCATION DIRECTOR –
AERIAL & FLEXIBILITY COACH – PERFORMER
Janelle is a professional contortionist and aerialist from the San Francisco bay area. Janelle coaches her aerial and flexibility students with a style informed by her background in dance and education theory. She empowers her students to identify and pursue their own goals, while emphasizing the importance of safety and technique. Described as humorous, encouraging, exploratory, and warm, Janelle creates a personal connection with students that persists outside of the classroom. She works with all ages and skill levels, and excels with students who are exploring their artistic identities. Janelle coaches act development with a unique perspective produced by her training as a therapist and in physical theater method; exploratory, unflinching, and holistic.
Janelle completed an apprenticeship with the Paperdoll Militia and has been teaching since 2013, at Poletential, Ascend Aerial Arts, Aerial Artique, and Kinetic Arts Center. Janelle was the Aerial Program Lead Instructor (manager) at Ascend Aerial Arts before her recent move to Colorado where she is pleased to join the teaching staff at MOTH Contemporary Circus.
---
ERIC PRATHER
DIRECTOR OF FUN – JUGGLING & PERFORMANCE COACH – PERFORMER 
Eric Prather, aka, Mr. FunnyFace, is a former Cirque du Monde coach, a program through Cirque du Soleil that mixes circus arts and social work to help at risk youth. He was a former circus summer camp director, and American Youth Circus Organization teacher. He has since been on tour preforming at various Renaissance Fairs. Growing up near Boulder, Eric is so extremely pumped to share his knowledge of circus, and performing back at home in Colorado.
---
ANASTASIA TIMINA
AERIAL COACH
Anastasia first discovered aerial in college, where she was working on a
degree in Art with a minor in Neuroscience. At first aerial was great
fitness but quickly become an outlet for creativity and a passion.
Anastasia's movement style comes from a background in martial arts.  Her
movement style is dark and dramatic, a mixture of slow hypnotic movement
and fast dynamic sequences. Her emphasis is on fascinating shapes and
clean lines all while upholding the illusion of defying gravity. She
approaches teaching skills through the incremental progressions of a
martial artist, informed by kinesthetics and anatomy. Her coaching has
been described as approachable, encouraging, and quirky with emphasis on
proper technique and anatomical safety. Anastasia has been training
since 2011 and has been performing since 2013. She completed the Aerial
Teacher Training Program in January of 2016 and since has been working
as a coach to help others discover the joy of aerial and their potential
to fly. She hopes that she can help achieve each students individual
goals, help them find their own artistic voice and influences, and hone
their abilities.
As a performer, her passion for art helps inform her choreography. She
considers the overall impact of a piece while not letting any detail go
unnoticed. She loves storytelling-through elaborate costuming, body
language, and music selection. Just like her oil paintings, she likes
her aerial acts to visually make a statement. Anastasia enjoys all forms
of aerial including rope, silks, sling, trapeze, invented apparatus, and
sometimes lyra.
---
NICOLE LONDRAVILLE
AERIAL COACH 
Nicole was working as a scientist in the Boston area when she took her first aerial class in 2012. She was instantly hooked and began dreaming of running away and joining the circus. For the next five years Nicole worked in Biotech by day and trained circus nightly at Esh Circus Arts in Somerville MA. In 2017 after graduating from their Professional Prep Program, she was accepted into the New England Center for Circus Art's (NECCA) Protrack Program. Without hesitation she moved herself, her husband, dog, and two cats to Brattleboro Vermont. There she spent the next two fabulous years training circus full time under NECCA's world class coaches. Nicole graduated from the second year of the program in June 2019 with a major in aerial rope and minor in cyr wheel. She has just moved all her animals again to Denver and is delighted to share her knowledge and passion for circus with her new community.
---
WIL FIELDS
AERIAL 
COACH 
Theatre has been a part of him his whole life. From being on stage to backstage, he has done it all. He went to a performing arts high school in Las Vegas where he emphasized in stage acting. After graduating in 2007, he moved to Colorado and went to the University of Northern Colorado and Majored in technological theatre with an emphasis in costume design and technology. In 2011, he graduated and was offered a costume assistant job in Florida for Walt Disney world. While working in a high energy and demanding position, he found a gym that offered aerial arts and feel in love with it. He spent a majority of his free time training and becoming better as an aerialist while working for Disney as well as Universal Orlando as a stunt man. Then after three years working at Disney, he decided that he wanted to switch from costumes to character. In 2015 he became a character performer for Disney and quickly gained many rolls and parts in very large Disney productions. While doing so, he was apart of a local aerial performing group call suspended Artestry and performed a variety of aerial acts. That journey then pushed him towards another amazing local troop called Phantasmigoria where he did not only aerial pieces but also acting and atmosphere performances for conventions and private parties. After some thought, he and his wife decided that it would be best to move back to Colorado to be closer to family. Wil is very proud to be part of Movement of the Heart (MOTH) and is excited to continue his aerial journey and help others discover theirs.
---
KATIE MESMERIE BRUNNER
AERIAL COACH
Katie Mesmerie became immersed in the aerial world in 2009 when she began taking classes at S-Connection Aerial Arts in Gainesville, Florida. She completed her teacher training under the guidance of the Brazilian-trained circus artist Corey David deSouza and relocated to Denver in 2012. Katie has taught at multiple studios throughout Colorado and runs Mesmerie Entertainment LLC. Her performance highlights include the 2014 Irish Aerial Dance Festival, 2015 Decadence NYE, and 2016 Colorado Pole Championship. Katie is a passionate teacher, performer, and student of the wide world of circus.

---

COSMO DUDLEY
MOVEMENT COACH
Cosmo, a native of Denver, Colorado, has been doing parkour since he started in 2009. Cosmo is a professional photographer, office manager of MOTH Contemporary Circus Center, and is a Level 2 Functional Movement coach through FMS. In addition to thousands of hours of personal reading, research, practice, and teaching Cosmo has trained extensively across North America learning from other great Movement instructors including the Ido Portal Method, Jim Bathurst (BeastSkills.com), handbalancer Yuval Ayalon, circus coach Jean-Luc Martin, Yuri Marmerstein, and Rafe Kelley. Cosmo has trained parkour all over the world with several communities across the United States, Canada, Western Europe, the Carribbean, and China. Cosmo has over 1000 hours teaching at parkour, tumbling, martial arts tricking, handbalancing, aerial straps, trampoline, and partner acrobatics.
---
ELIZABETH SMITH 
AERIAL COACH



Liz fell in love with aerial fabric at a traveling circus years ago. Since discovering a wonderful aerial community in Colorado in 2008, she has been passionately studying, performing and teaching on aerial silks, rope, hammock, and lyra.  She was a finalist in the Aerial Fabric Acrobatics Festival in 2013, and over the past few years has performed with artists such as  Random Rab, Elephant Revival and String Cheese Incident, in productions such as Cirque Side of the Moon and the 1940's Ball, and at national festivals such as Sonic Bloom and Arise. Liz has taught in a variety of programs in Denver and Boulder, and as a teacher she loves collecting and sharing skills from a variety of people, programs and cities, finding new ways to combine them, and using her technical background to dissect moves and help students troubleshoot and fine tune their aerial work.
---
STAZA STONE 
AERIAL COACH 
Staza has always been intrigued by the variety of vaudeville and the freedom of creative expression.  Growing up she wanted to be on Broadway but shortly after discovering she was tone deaf, switched gears completely to embark on a journey in academia.  After graduating with a degree in Cultural Anthropology it was only natural to throw all caution to the wind and pursue her dream life in performance.  Staza graduated from Frequent Flyers Professional Training Program in 2014 and continued on for 6 more months to further hone her skills.  She is trained in a variety of aerial apparatuses as well as ground circus skills: Hooping, Stilt Walking, and Invented Apparatus are her passions!
---
GUEST COACHES
---

KEVIN BEVERLEY
Kevin began his journey in the suburbs of Chicago with gymnastics as his first form of activity. After a friend's suggestion, and seeing how much fun performing was, he started dancing. Later, Kevin transferred from public school to join the dance department at the Chicago Academy of the Arts for his final two years of high school. He started taking circus classes in his spare time and immediately felt a passion for it. Combining his love for dance with the acrobatics of circus was exhilarating and led him to leave the ballet bar behind.
After graduating high school, he attended the New England Center for Circus Arts full-time where he trained under the direction of Aimee Hancock, and Bill Forchion. Kevin was then accepted into Montreal's prestigious L'ecole nationale de cirque (National Circus School), trained under Sarah Poole and Véronique Thibeault. In 2012, he graduated with a specialty in
dance trapeze and a complimentary in Chinese hoop diving.
While at ENC, Kevin spent most of his time perfecting his craft by combining his three passions: dance, acrobatics, and trapeze technique. In unifying his diversities, Kevin's movement becomes a language that surprises with powerful dynamic and seamless fluidity.
He has since worked with Sept Doigts De La Main, in Queen of the Night and is currently on tour with the show "Traces.
---

STEPHAN CHOINIERE
Trained as an elite gymnast at Temple University, Stephan also studied a variety of dance disciplines in order to fuse more sophisticated choreography with acrobatics. For ten years as a principle performer with the acrobatic troupe, AntiGravity, he integrated dance, acrobatics and aerials for the company's original shows and corporate productions. He has been a creator &
collaborator in the design of diverse acts in the "Nouveau-Cirque" genre. Stephan created and performed the featured duo "Body2Body" in over 1000 shows for Cirque du Soleil in their Las Vegas production, Zumanity. His creative recipe for the stage has included awe-inspiring skills with fluid phrasing and emotive story telling. He has a degree in fine arts from Tyler School of Art in Philadelphia.
---

CHRISTINA CONGER
From a young age, Christina was always dancing, moving, and finding new ways to challenge herself. An Alaska native, she began dancing at the age of 6 to help with her figure skating career and she hasn't stopped since. She grew up dancing and performing in Alaska before she went to Montana State to get her B.S. in Exercise Physiology, as well as her ACSM Exercise Physiologist and Zumba certifications. In 2007-2009, she traveled around the U.S., China, and Japan as the lead dancer in the Magic of Jay Owenhouse, before being accepted into a professional training program at the New England Center for Circus Arts in Vermont in 2010, where she specialized in hand-to-hand/partner acro and skating trapeze (and where Deena was one of her coaches!). For the past couple of years, she has been performing and dancing all over the U.S., Germany, and the U.A.E. with Pilobolus Dance Theater and Radiolab Live. She moved to Denver in 2013 to continue working with MOTH Poetic Circus as the dance captain, choreographer, and aerialist/dancer. When she's not training, traveling, or performing, she stays active and happy running and lifting weights, teaching dance acro, hip-hop, and group fitness classes locally, walking dogs as a part-time job, and spending time with her cat, Cleo. Currently, she is applying to Physical Therapy programs to begin in Fall 2016.
---

EVE DIAMOND
Eve Diamond's work represents the entwining of strength versus flexibility, dynamic power versus grace and beauty versus brawn. She began circus as a child and has grown up in the world of performing, training and teaching circus arts. While specializing in aerial rope and cloud swing (static and dynamic), Eve's performance
capabilities include trapeze, hoop, tissu, and partner acrobatics.
---

MARIO DIAMOND
Mime and circus artist from Montréal, Mario travels the world since 1976, performing in corporate shows, circus and schools. Besides his own characters, Mario has performed in different style such as classical mime, Marcel Marceau type, robot and cybernetic motions or impersonating The Tramp, legendary character of Charlie Chaplin. Mime teacher in different circus schools, in Canada and United States, he is also teaching physical acting to actors, Olympic figure skaters, and politicians.
Another side of his work brought him to movies, television shows and publicity, especially to give life to monsters or characters in FX movies. – See more at: http://www.mimemario.com/en/#sthash.r7z62vTA.dpuf
---

MARSHALL JARREAU
Marshall Jarreau is has been a professional dancer and circus aerialist for 13 years. He also holds a license to practice massage therapy. He received his dance training in the BFA dance program at the University of Colorado in Boulder. From Colorado, he began performing around the world with Royal Caribbean Cruise Lines for 5 years and was also a top finalist on the first season of FOX's So You Think You Can Dance. In 2010, Marshall began formal training as an aerialist at the New England Center for Circus Arts and, afterward, was featured as the Walrus character and dancer in Cirque Du Soleil's LOVE. In 2013, he won the title of Overall Champion at Pole Expo's Pole Classic. He is currently teaching in the San Antonio area and performing throughout the US.
---

KALI QUINN
Kali Quinn is a facilitator of Compassionate Creativity through innovative storytelling and physical play based in Providence, RI where she has taught clown, movement, solo performance, and devising for the Brown/Trinity Rep MFA and Brown University and worked as Stateside Faculty for Accademia dell'Arte (Arezzo, Italy). Her two athletic/three-generation/violin playing solo shows  have been performed at universities and festivals throughout the country. Kali has also directed, designed movement or facilitated training for: Pearl Theatre Company, Celebration Barn, New England Center for Circus Arts, MIT, Connecticut College, Boston University, Creative Medicine Series at Brown University, Emory College, MOTH Aerial Dance, Bucknell, Clowns Without Borders in Guatemala & Grupo Galpao in Brazil. Kali has served on the Board for the Network of Ensemble Theaters and received her training at the University of Rochester and the Dell'Arte School of Physical Theatre. More at: www.kaliquinn.com
---

DANIEL SULLIVAN
Daniel, with a personality just as memorable as his red hair, has been traditionally trained in Irish Step Dancing since the age of four. It wasn't until ten where Daniel would branch out, extend those arms, and soar into the world of circus. At thirteen, he joined Circus Smirkus, the only international youth circus in North America. It was his five consecutive years touring with Circus Smirkus where he developed his passion for aerial hoop, the circus ring, and essentially everything circular.
After graduating with honors from his high school, he simultaneously attended the San Francisco Circus Center, to enhance his craft, and studied dance at the University of San Francisco. Daniel was soon accepted into Montreal's prestigious L'École nationale de cirque de Montréal (National Circus School of Montréal) where he majored in aerial hoop, training under the fabulous Nathalie Hebért. As an artist, Daniel hopes to embody power, rhythm, joy and bring a smile to your face.